Larka is very pleased to announce it acted as the buy-side Commercial Due Diligence provider to support Merieux Equity Partners on its investment in Janvier Labs, a European-leading biopharmaceutical company offering translational research products and Contract Research Organization (CRO) services based in France.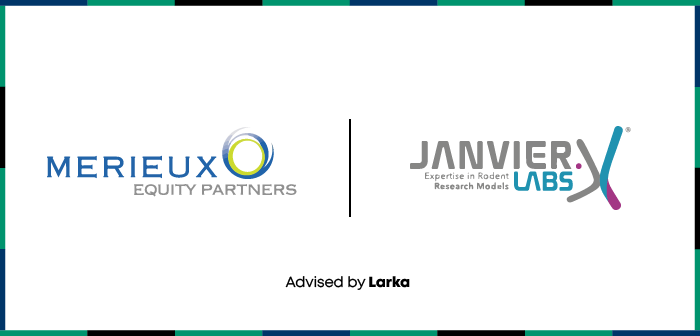 Merieux Participations 4 fund (MP4) – the Growth Buy-Out fund of Merieux Equity Partners – has signed a definitive agreement to acquire a minority stake in Janvier Labs. This investment will result in Merieux becoming the Lead Financial Investor of the Group – while the Janvier Family will remain the majority owner.
Already established as a European-leading player specialized in the production of laboratory rodents and associated CRO services, this new capital brought by Merieux – alongside investments from Janvier Labs' management, Unexo and family shareholders – is set to accelerate the development of the Mayenne-based company in the forthcoming years.
How did Larka support Merieux Equity Partners Investment Process?
Acting as the Buy-Side Commercial Due Diligence Advisor, Larka provided Merieux Equity Partners with key insights and recommendations, giving our M&A team a decisive role in the overall decision-making process, and in turn, the upcoming investment in Janvier Labs by the Lyon-based Private Equity firm.
Larka's team has been instrumental in this operation. Their very deep understanding of the industry has helped us confirm our initial assessment of the market and of the quality of the asset. At the same time, their insightful recommendations helped us built a robust growth roadmap. Looking forward future projects with them.

Jean-François Billet – Managing Partner at Merieux Equity Partners
As for all of our Buy-Side and Sell-Side M&A services, this Commercial Due Diligence process leveraged Larka's deep knowledge of the healthcare industry and biopharmaceuticals – in this case the CRO and Research Model Services (RMS) market – to provide Merieux with a comprehensive picture of Janvier Labs':
Core value proposition within the translational research products and services landscape
CRO and RMS market dynamics and market sizing
Positioning in the competitive landscape
Customer environment & market feedbacks
Business Plan review and growth avenues
What's Next for Janvier Labs?
Janvier has built a worldwide reputation and a sustained growth by offering best-in-class catalogue and custom research models, as well as innovative associated CRO services.
The latter, aim to bring more breakthrough treatments to the market by facilitating the clinical research efforts of academia, Biotech, Pharma and CRO companies that address critical therapeutic areas such as:
Metabolism
Immunology
Oncology
Infectious Diseases
Cardiology
With Merieux bringing its strategic and financial support all while giving access to its strong healthcare expertise and global network, Janvier Labs is set to initiate its next phase of growth.
The French PE firm dedicated to healthcare sector acquiring a stake in Janvier Labs will also enable the group to expand its international customer base, as well as further develop its activity organically and through targeted M&A initiatives.
About Larka: the buy-side commercial due diligence provider
Larka is a management consulting firm, exclusively dedicated to the Biotech and Pharma industry. We assist all players that are somehow involved technically, commercially or financially into drug discovery, development and manufacturing, such as Biotech & Pharma companies, Contract Services Organizations, Equipment or Raw Materials Suppliers, Private Equity firms, Investment Banks or Public Institutions.
Covering Technical, Operational, Commercial and Strategic activities, Larka has developed a unique combination of expertise – including TechOps, CMC & Outsourcing, Operational & Commercial excellence, Marketing & Sales, Corporate Strategy and M&A - giving Larka's clients a full appreciation of their capabilities and a 360° view, full-potential vision, on the industry's opportunities, synergies and risks.
About Merieux Equity Partners: the Private Equity firm advised
Mérieux Equity Partners ("MxEP") is an AMF-accredited management company dedicated to equity investments in the health and nutrition sector. MxEP actively supports entrepreneurs and companies with differentiated products and services, giving them privileged access to its sector expertise and international network.
About Janvier Labs: the biopharmaceutical company target
Janvier Labs is one of the world's leading players in translational research services. The Company offers innovative rodent research models for biomedical research as well as related services. Based near Laval and founded in 1960, Janvier Labs employs over 350 employees.