Fresh out of college and hired amid the COVID-19 pandemic, Yana saw in Larka an opportunity to shape a career within the BioPharma industry while evolving in a fast-paced and exciting environment.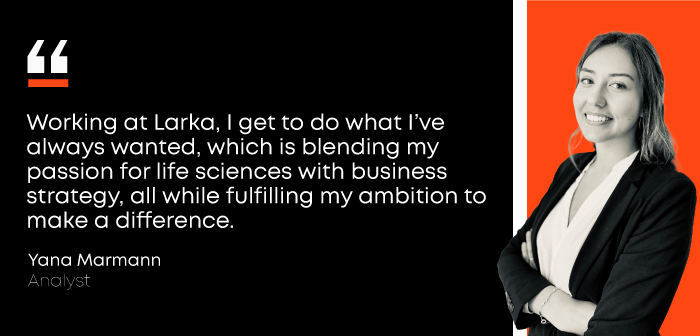 Joining Larka to Build a Meaningful Management Consulting Career
I've been attracted to life sciences and the pharmaceutical industry ever since I was a child. To me, partaking in the development of innovative medicines and therapies always felt like the best way to make a positive impact and help improve people's lives.
After my graduation from Polytech Nice Sophia Antipolis as an engineer specialized in Pharmacology & Biotechnology, I worked in French and German research labs to conduct basic and applied explorations in the fields of Epigenetics and Neurology.
I quickly realized that working in fundamental research was a bit too restrictive and didn't quite fit in with the global vision I had for myself.
I wanted to make a bigger impact within the industry, and management consulting seemed to be the perfect option for me. Working at Larka, I get to do what I've always wanted, which is blending my passion for life sciences with business strategy, all while fulfilling my ambition to make a difference.
Endless Science and Business Learning Opportunities
Being dedicated to the BioPharma industry doesn't mean that we're limited in terms of mission diversity – it is actually quite the contrary – so there's no such thing as a "typical day" at Larka!
I get to work on a variety of projects for all kinds of clients – from Private Equity firms and small Biotech companies to large CDMOs – which makes each project very unique in terms of requirements and learning.
In my case, I'm mostly involved in M&A projects for Private Equity firms, but I also partake in supply chain optimization and corporate strategy missions for Biotech and Pharma companies.
No matter the type of project or client, I'm always struck by the amount of knowledge I gain from a scientific and a business perspective, I never thought I would build such a robust Biotech and Pharma expertise that fast.
One of my concerns before joining the firm was that business and strategy would prevail over science, but it hasn't been the case at all. Each project is an opportunity to deep dive into a scientific universe, interact with industry key opinion leaders, learn more about a modality, a therapeutic area or discover novel technologies, it's just fascinating.
Exciting Biopharmaceutical Challenges
While I consider the majority of my missions as an analyst really stimulating, I particularly love the beginning of new M&A projects. I think it's the most intellectually challenging part of my work, but also the most interesting as we get to really dig into highly technical scientific concepts.
I like to think of the primary and secondary research process as an exciting and demanding puzzle, that we must solve collectively. Each team member brings new pieces, enabling us to build an accurate picture for a given market and ultimately deliver actionable insights to our Private Equity clients.
As we often act as intermediaries between the financial and scientific worlds, one of the main challenge as a team remains communicating those complex concepts in digestible terms. I think that this ability that we have is pretty valuable and has a huge impact on our customer's overall satisfaction.
My Personal and Professional Growth
Arriving at Larka I didn't know what to expect, most companies I'd work for in the past didn't take Juniors really seriously. But the management and the whole team immediately made me feel trusted and empowered to share ideas, ask questions and play an active role in the projects' advancement – that's when I knew I made the right call joining the firm.
You don't just clock in, do your work, and go home. The people I work with are much more than co-workers, they are my friends, and I believe most people at Larka feel the same way – we actually spend a lot of time together outside of work!
I think this level of cohesion is very rare – you wouldn't get that kind of atmosphere in a larger company – and it has a great positive impact on how we work as a team. We know each others' strengths – some have backgrounds in pharmacology, chemistry, biotechnology or in finance, marketing and business development –, we communicate straightforwardly, and we're all motivated to give our absolute best for the team and the client.
Visit our Careers page and learn more about what Larka can bring you in terms of career and lifestyle.