Larka is delighted to announce it acted as the buy-side Commercial Due Diligence provider to support Keensight Capital on its acquisition of a majority stake in Axxam, a global-leading Contract Research Organization (CRO) based in Italy.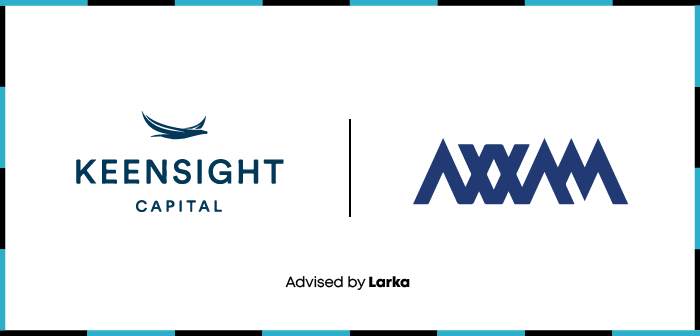 Keensight Capital, a leading French Private Equity firm dedicated to Growth Buyout investments in the healthcare sector, has reached an agreement to acquire a majority stake in Axxam from the current shareholders – which includes biopharmaceutical companies Bayer SpA and Zambon Company SpA.
This investment from Keensight Capital alongside current management's participation is set to further consolidate the leading position of the Milanese iPRO – "innovative Partner Research Organization" – within the Drug Discovery CRO services market in the forthcoming years.
Representing the 6th successful transaction involving a CRO service provider over the past 12 months, this deal further cements Larka's position as a leading advisor and partner of choice for global Private Equity firms investing in targets evolving in this ever-growing segment.
This acquisition process also marks another successful collaboration with Keensight Capital, as Larka provided Integrated Due Diligences on the acquisitions of Bio-CDMOs Biovian and 3P Biopharmaceuticals, as well as performing the CDD for the acquisition of Symeres, a leading small-molecule integrated drug discovery and development "CRDMO".
How did Larka support Keensight Capital's Acquisition Process?
Acting as the Commercial Due Diligence advisor, Larka provided Keensight Capital with key insights and recommendations, giving our M&A team a decisive role in the overall decision-making process, and in turn, the upcoming acquisition of Axxam by the Paris-based Private Equity firm.
"Larka's team made a significant contribution to our commercial assessment of Axxam. Specifically, the Larka team leveraged their knowledge, network and insights to help identify key trends in Axxam's addressable market, to characterize the company's differentiated positioning inside the market, and to identify potential incremental growth levers in the years ahead. We sincerely appreciated their work and look forward to more of such projects together."

Amit Karna – Partner at Keensight Capital
As for all of our Buy-Side and Sell-Side Merger and Acquisition services, this Commercial Due Diligence process leveraged our extensive knowledge of the life sciences industry and biopharmaceuticals – and in this particular case early Drug Discovery CRO services – to provide Keensight with a comprehensive picture of Axxam's:
Core value proposition within Drug Discovery CRO services landscape
Contract Research Organization market dynamics and market value
Positioning in the competitive landscape
Customer environment and market feedbacks
Business Plan review, risk analysis and growth avenues
What's Next for Axxam?
Operating through its three European sites – i.e. 2 in Italy and 1 in Germany – and employing approximately 180 FTEs, Axxam is currently considered as a one of the largest biology-centric organizations worldwide – with a solid € 30M of sales generated in 2021.
The Italian "iPRO" has built this solid reputation and experienced a double-digits organic revenue growth rate by providing global biopharmaceutical and life sciences companies with a wide array of Drug Discovery services and specialized technologies, which include:
Target assessment
Assay development
High-Throughput Screening (HTS)
Compound Management
Hit identification
Hit Validation
Proprietary compound collections
Providing its additional capital, strategic guidance and vast healthcare industry network, Keensight Capital aim to support the management team in pursuing and accelerating the growth of Axxam – to seal its position as a global leader in the field of Drug Discovery CRO services.
In the coming years, the PE firm – and Axxam's co-founders and co-CEOs Dr. Stefan Lohmer and Dr. Alessandro – will thus work on building one of the most innovative integrated CRO offer, covering all steps from target assessment to lead discovery and further consolidating its American and European footprint.
About Larka, the buy-side commercial due diligence provider:
Larka is a management consulting firm, exclusively dedicated to the Biotech and Pharma industry. We assist all players that are somehow involved technically, commercially or financially into drug discovery, development and manufacturing, such as Biotech & Pharma companies, Contract Services Organizations, Equipment or Raw Materials Suppliers, Private Equity firms, Investment Banks or Public Institutions.
Covering Technical, Operational, Commercial and Strategic activities, Larka has developed a unique combination of expertise – including TechOps, CMC & Outsourcing, Operational & Commercial excellence, Marketing & Sales, Corporate Strategy and M&A - giving Larka's clients a full appreciation of their capabilities and a 360° view, full-potential vision, on the industry's opportunities, synergies and risks.
About Keensight Capital, the Private Equity Firm Advised:
Keensight Capital, one of the leading European Growth Buyout firms, is committed to supporting entrepreneurs as they implement their growth strategies. For over 20 years, Keensight Capital's team of seasoned professionals has leveraged their knowledge of investment and growth industries to invest for the long term in profitable companies with high growth potential and revenues in the range of €10 million to €400 million. Drawing on its expertise in the Technology and Healthcare sectors, Keensight identifies the best investment opportunities in Europe and works closely with management teams to develop and achieve their strategic vision. Keensight Capital's success has earned it a Gold Award from the Private Equity Exchange & Awards each year for the last five consecutive years, and in particular, the Best European Growth Private Equity Fund.
About Axxam, the Contract Research Organization target:
Axxam is an iPRO (innovative Partner Research Organization) and discovery company with headquarters located in the scientific campus OpenZone on the doorstep of Milan, Italy. The Company is a leading provider of discovery services for the entire life sciences industry. Axxam has strong expertise across a broad range of discovery disciplines and innovative technologies, including assay development, compound management, HTS (high-throughput screening) / HCS (high content screening), hit identification and hit validation. Axxam is also engaged in developing novel innovative therapies for diseases with a high unmet medical need.