Larka is pleased to announce that it performed the Commercial Due-Diligence, Operational Due-Diligence and Technical Due-Diligence for Keensight Capital and ERES, the new shareholders of Biovian.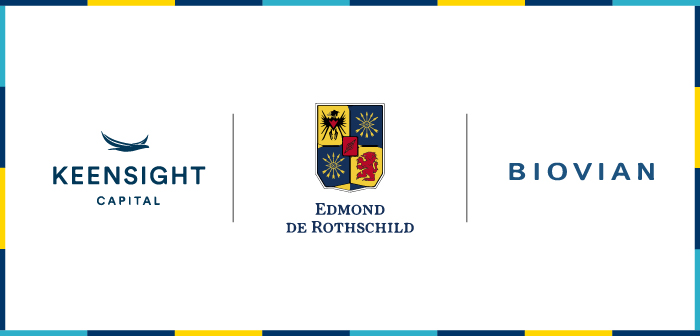 Larka's M&A division advised Keensight Capital and ERES - Edmond de Rothschild Equity Strategies - on all commercial, operational and technical aspects of the transaction, including quality & regulatory.
Keensight Capital acquired a majority stake in Biovian, a leading biopharmaceuticals development and manufacturing organization for biological processes.
Founded in 2003 and based in Finland, Biovian is a one-stop-shop Contract Development and Manufacturing Organization - CDMO - of biopharmaceuticals providing manufacturing and development services from early stage to finished vial for biological processes, such as microbial fermentation and gene therapy.
Larka performed an Integrated due-diligence to support Keensight Capital and ERES during the acquisition of Biovian.
"We are proud to have collaborated with Keensight Capital and ERES on this successful deal which attracted many Private Equity firms and industrial players. Biovian's broad service, from early stage to finished product, combined with their strong expertise in gene therapy, is very promising.

We are convinced that Keensight Capital and ERES teams, which have a deep knowledge of the industry, will strongly reinforce Biovian, a leading European player in contract manufacturing and development of biopharmaceuticals."

Pierre-Anthony Brioir, Director at Larka
About Larka
Larka is a management consulting firm, exclusively dedicated to the Biotech and Pharma industry. We assist small Biotech or large Pharma companies, Contract Services Providers or Equipment Suppliers, Venture Capital or Private Equity firms, in their development or in managing complex situations. Active in Technical, Organizational, Commercial and Strategic operations, Larka has developed a unique combination of expertise which covers CMC & Outsourcing activities, Operational & Commercial excellence, Marketing & Sales, Corporate Strategy and M&A.
For more information, please visit www.larka.com
About Keensight Capital
Keensight Capital, one of the leading European Growth Buyout firms, is committed to supporting entrepreneurs as they implement their growth strategies. For 20 years, Keensight Capital's team of seasoned professionals has leveraged their knowledge of investment and growth industries to invest for the long term in profitable companies with high growth potential and revenues in the range of €15 million to €250 million. Drawing on its expertise in the Information Technology/Internet and Healthcare/Wellbeing sectors, Keensight identifies the best investment opportunities in Europe and works closely with management teams to develop and achieve their strategic vision.
For more information, please visit www.keensightcapital.com
About ERES
Edmond de Rothschild Equity Strategies -ERES -, managed by Edmond de Rothschild Private Equity, is a fund fully dedicated to collaborative capital, investing in Mid-caps - mainly in the OECD region - alongside other shareholders and management to contribute to their development through acquisitions with a strong governance and a tailored capitalistic approach.
For more information, please visit www.edmond-de-rothschild.com/en/eres